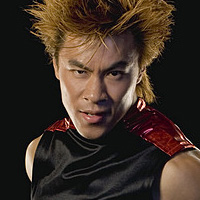 Zen
Name: Xin Sarith Wuku
Height: 5'9"
Weight: 160 lbs
Country: United States of America
Years: 2008
Zen brings his own lethal combination of ancient eastern tradition and 21st century battle technique to Gladiator Arena. Born to create chaos, this mysterious warrior uses superhuman speed and high-flying skills to dispatch anyone unlucky enough to cross his path before they even realise they're in danger, and the slips back into the shadows like a ghost to wait for his next victim.
He made is debut during Season Two of NBC's American Gladiators. His best events were Rocketball and The Wall; in which he would climb up between the Contender and The Wall, in order to take them down.
Zen was born in Cambodia, living a peaceful life until the day rebels arrived and attacked his village. Zen and his family fled towards Thailand, as refugees and without his older brother, they eventually arrived in America.
At high school, Zen fell in love with sports and he trained heavily in martial arts and even competed in underground cage fights, until he realised it wasn't for him. At the age of 21, he spent two months travelling around America. During this time he was given the opportunity to show off his skills, he wowed the audience and realised that he had a passion for performing. He then met a like-minded group of people, sharing the same passion, and the same dream. They formed a stunt/action group called the EMC Monkeys, who are a special blend of martial arts, stunts, tricks and free running. Three short years later, Zen produced a video showing off his skills under the guise of 'Urban Ninja', and soon had over 5 million views on YouTube and became an Internet sensation.
His video soon grabbed the attention of the producers of NBC's American Gladiators and he was invited to audition to be a new Gladiator at Gold's Gym in Venice. Impressing David Hurwitz, executive producer of American Gladiators, who wanted to diversify the Gladiator team even more with different skills, he advanced to the next round. Arriving at the audition for NBC executives, he dressed in his urban ninja costume - cargo shorts, Converse high-tops, a ninja mask, a sword and a pocketful of magic ninja powder. "I do my thing, I'm yelling, kicking, flipping, screaming," Zen says. "When I finish they tell me, 'Get the hell out of here, you're already on the show.' So I take out my ninja powder, also known as baby powder, and blew it and disappeared."
Zen's idols include Jackie Chan, Bruce Lee, Monkey King and the infamous Teenage Mutant Ninja Turtles. His motto is "To fear death is to limit life". He travelled to China for a month to compete in a reality TV show called 'Jackie Chan's The Disciple'. After breezing through the first two rounds, Zen ran into trouble when the competition required contestants to recite poems in Chinese, the language tripping him up. After his elimination he received an invitation to meet his childhood hero, Jackie Chan. He was given a signed official Jackie Chan Stunt Team jacket (in pink) and personal advice from Chan to "Get out there and make something of yourself!". Zen says "And I'm like, damn, what's to stop me now? I got props from Jackie Chan!".
Since American Gladiators, Zen has been busy with all kinds of projects, ranging from acting, stunt coordination, fight choreographer and performer. Credits include 'ABCs of Death 2' (2014), 'Replay' (2007), 'Break' (2008) and Tina Turner Live 2009, to name just a few.
Your Comments: