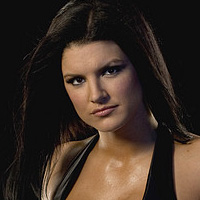 Crush
Name: Gina Carano
Height: 5'8"
Weight: 141 lbs
Country: United States of America
Years: 2007 - 2008
Don't let the winsome smile fool you... Crush earned her well-deserved moniker by smashing opponents into submission. Despite her girl-next-door looks, she's a powerful, fierce opponent who has no problem handling the women competitors, and then going back to breaking men's hearts.
Born in Dallas, Texas, she graduated from Trinity Christian High School in Las Vegas, Nevada, where she led the girls' basketball team to a state title. She also played volleyball and softball. She attended the University of Nevada, Reno for a year and then University of Nevada, Las Vegas for three years, where she minored in psychology.
Crush began her training with straight Muay Thai to competitive MMA, where she competed in Strikeforce and EliteXC. After racking up a competitive record of 12-1-1 in Muay Thai and a 7-1 in women's MMA, she received an offer to participate in the first ever female sanctioned MMA bout Strikeforce: Carano vs. Cyborg.
Since retiring from competition Crush has pursued a career in acting. Her film debut in Steven Soderbergh's 2011 action film Haywire earned a nomination for best actress in that genre at the 18th Critics' Choice Awards. Additional film credits include Fast & Furious 6 (2013), a starring role in In the Blood (2014), and played Marvel Comics fictional mutant character Angel Dust in Deadpool (2016).
Your Comments: