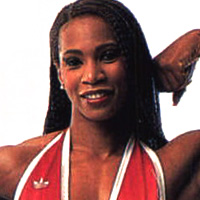 Blaze
Name: Sha-ri Pendleton-Mitchell
Height: 5'7"
Weight: 140 lbs
Country: United States of America
Years: 1989 - 1992
A standout hurdler and triple jumper at the University of Nebraska, an injury forced her out of the 1984 Olympic trials in Los Angeles. She worked towards competing in the 1992 Olympic squad in the Javelin, and managed practice throws near 200 feet.
Blaze competed in the U.S. Olympic Festival '91 in Los Angeles. She also has competed professionally as a bodybuilder, including winning the 1990 Miss Natural International Bodybuilding Championship.
She was known to be very aggressive in the arena and was often sidelined in Powerball for tackling the Contenders above the neck. Her best event was Conquer.
In addition, Icelandic born Blaze was accepted into law school and practised criminal law. Controversially, she married Rodney Mitchell in 1991 who was part of a rival medieval themed athletic television show 'Knights and Warriors'. He was known as 'Knightmare - The Duke Of Doom' and had reportedly met Blaze working as a trainer to the Gladiator contenders. They have a son, Re-al Mitchell, who has followed in his parents athletic footsteps as a 100 and 200 meters sprinter and football player.
Your Comments: