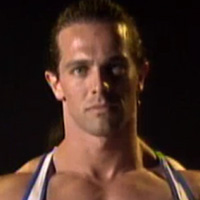 Cyclone
Name: Barry Turner
Height: 6'0"
Weight: 228 lbs
Country: United States of America
Years: 1992 - 1993
In 1992, Cyclone auditioned for American Gladiators where he was chosen from over 350 participants. An injured bicep sadly cut his Gladiators career short.
His strength made him a formidable opponent in the likes of Powerball, The Maze and his favourite event Atlaspheres.
After a baseball accident during his childhood rendered him deaf in one ear, he picked up a set of weights and by the time he was 17, he was a competitive bodybuilder.
His natural ability for being in the spotlight landed Cyclone bit parts in movies 'Death Becomes Her' and 'The Bodyguard' and he also did some fitness modelling in California.
In 1993, due to the injury he sustained on American Gladiators, he decided to start a company with his friend Benny Graham. They created a brand of natural, high-protein enhanced cookies, muffins and brownies under the name Lenny & Larry's; the two friends, Benny & Barry, thought the name Lenny & Larry's was just funnier. After seven years of working together, the two friends sold the company to Don Crouch. Cyclone bought back half of the company in 2007 and has helped to take it from strength to strength.
Nowadays, as well as still being a CEO of Lenny & Larry's, Cyclone also coaches baseball and basketball. He enjoys working out, playing softball, skiing and spending time with his wife and 2 boys.
Your Comments: