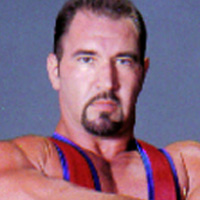 Rage
Name: Steve Davis
Height: n/a
Weight: n/a
Country: United States of America
Years: 1996 - 1998
Rage was a Gladiator for the American Gladiators Orlando Live shows in Florida. He excelled in events such as Powerball, The Wall, Whiplash and Breakthrough & Conquer.
As a natural athlete, Rage loved playing, watching, and coaching football. His passion for being physically fit motivated him to open his first gym, in Mableton, Georgia in the late 80s. Over the span of his career he opened and managed numerous health clubs.
Sadly on the 22nd June 2017, Rage, aged 50, died suddenly due to heart failure in Fort Myers, Florida. He is survived by his wife, Paris Storm Davis, and two children, Stefan and Reagan.
Your Comments: