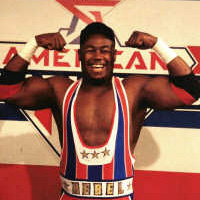 Rebel
Name: Mark Tucker
Height: 6'3"
Weight: 285 lbs
Country: United States of America
Years: 1993 - 1994
Former NFL and AFL player Rebel competed in American Gladiators during Season 5. His superb upper body strength and formidable size made him a force to be reckoned with in Joust, Atlaspheres and Powerball.
While working out in the weights room at USC, American Footballer Charles White, winner of won the Heisman Trophy in 1979, had just won the American Gladiators Pro Football Challenge of Champions celebrity show and mentioned they were looking for new Gladiators. The strength and conditioning coach at his gym was also training a few of the participants over the summer and brought him in to meet Turbo, Sky, and some of the cast and do some of the events as an alternate. There he received his nickname from fellow Gladiator Sky as the 'Rebel'. "Sky saw me and said I looked like a rebel, so it just stuck" he remembers. Rebel got his first big break in the Gladiator arena when he walked into the locker room ten shows into the season as an alternate and found some good news waiting for him. Tower and Laser had sustained some injuries and needed a break for a few shows, he looked up at the board for those days events and noticed his name and a costume hanging up in his locker - the Rebel had arrived!
Growing up his family moved around due his father being in the Navy. He lived in Alaska, Brooklyn, Japan, Dallas and in the Pacific Northwest. Once back in the U.S. he attended Banning High School in Los Angeles and went on to play American Football at the University of Southern California, graduating in 1991 with a Bachelor's degree in Political Science and Government.
As an American Football player, Rebel played a total of six seasons in the NFL. His NFL career started with the Atlanta Falcons in 1991 when he was drafted in the 7th round. However, he was released before the regular season, and signed with the Indianapolis Colts where he played from 1991-92. Rebel then played for the Arizona Cardinals (1993-94) and Jacksonville Jaguars (1995) before finishing his NFL career with the New Orleans Saints in 1996.
He left the NFL in 1997 and spent 10 seasons (1997 - 2006) with the Arizona Rattlers of the Arena Football League. He spent another two seasons as a coach (2007, 2010). As a player he helped lead the Rattlers to four Arena Bowls, which included the Arena Bowl XI Championship in 1997, his first year with the team.
These days, Rebel is a teacher and offensive line coach at Hamilton High School in Chandler, Arizona and also works as a firefighter at Phoenix Fire Department.
Your Comments: