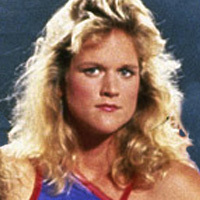 Sunny
Name: Cheryl Baldinger
Height: 6'2"
Weight: 145 lbs
Country: United States of America
Years: 1989
Championed as the 'All-American Woman', Sunny brought energy and beauty to the Gladiator team in Season One. Sunny was a competitive swimmer and model who became a major draw - although her good looks never outshone the fact that she was a force to be reckoned with in events such as Joust and Powerball.
Sunny's Gladiator career was cut short in the Semi-finals of the first half of Season One when she fell from the elevated Conquer platform against Tracy Phillips and injured her knee. She was replaced by Gladiator Jade for the remainder of the season and never returned to the show.
Since competing on American Gladiators, Sunny has pursued acting, modelling and art. She also rides bikes competitively.
Your Comments: