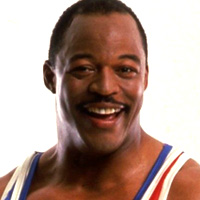 Gemini
Name: Michael 'Myke' Horton
Height: 6'4"
Weight: 255 lbs
Country: United States of America
Years: 1989 - 1992
The gentle giant of the Gladiators team, his actions speak louder than words. An alround athlete in high school, he was a standout offensive lineman at UCLA. He played 10 years in the professional ranks of the NFL (Eagles and Patriots), the Canadian Football League, and the USFL.
Following his football career, he never lost the desire for staying physically fit by spending an ample amount of time each day working out, and he studied martial arts for six years. Gemini also has had many guest-starring roles in feature films and has appeared in a multitude of national commercials.
Gemini became an instant fan favourite; but his subdued personal demeanour contrasted sharply with his 'Rage in the Cage' competition persona. His best event, undoubtedly, was Powerball, where he was involved in several altercations with Contenders, including actor Billy Wirth.
Along with Lace, he was one of the very first American Gladiators to feature on the pilot episode where he was known briefly as Cattalus. Gemini remained on American Gladiators through the third season and the live tour, leaving only after a dispute over merchandising royalties. Following his run on AG, he had a small role playing a security guard in the 1998 film 'A Night At The Roxbury'.
Random fact: Gemini once had a formidable opponent... the Whammy! Prior to becoming a Gladiator, Gemini appeared on the 1980s television show Press Your Luck as a contestant.
Working as a personal trainer, Gemini has a second-degree black belt. His wife Julie, is a former personal trainer. His two son's have followed in his sporting footsteps, Wes Horton is an American football defensive end for the NFL's Carolina Panthers and Shane Horton is an American football linebacker. His daughter Taylor, was part of Fresno State's women's volleyball team and is also a model.
Your Comments: