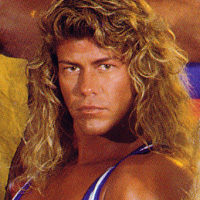 Malibu
Name: Deron McBee
Height: 6'3"
Weight: 240 lbs
Country: United States of America
Years: 1989, 1991/1992
Malibu was touted as 'the cool, laidback surfer dude' of the Gladiator team. Cast as the Gladiator who preferred 'babes and brewskis' outside of the arena, Malibu was a competitive racquetball player whose bronzed looks perfectly suited the role.
Malibu's most memorable moment came during the Human Cannonball event against Brian Hutson. Hutson hit Malibu squarely, sending 'The Big Bu' to the arena floor - and then to the hospital for stitches. Malibu's injury allowed for the appearance of alternate Gladiator Bronco to fill in for the last Human Cannonball swing. Although he did return to complete the first half of Season One, Malibu did not return for the second half and was replaced in the competition by Laser. However, 'The Big Bu' did make one more appearance, replacing Turbo/Tower on the American Gladiators Live Tour in 1991-1992.
After Gladiators, Malibu concentrated on his acting career, co-starring as Motaro in 'Mortal Kombat: Annihilation' (1997) along with another Gladiator, Sabre (Lynn 'Red' Williams). He also appeared in 'Batman Forever' (1995) and many TV shows including 'Cybill', 'Baywatch Nights' and 'Roswell'. Malibu also became a professional wrestler, known for a time as Kid Fury, and he continues to act.
Your Comments: