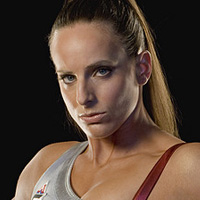 Fury
Name: Jamie Reed Kovac
Height: 5'7.5"
Weight: 148 lbs
Country: United States of America
Years: 2007 - 2008
Fury takes ferocity to a whole new level. She is a maelstrom of raw aggression and the epitome of the female Gladiator. Equally balanced in speed and strength... Hell hath no fury like, Fury. Period.
She holds a B.S. in Civil Engineering and a Masters in Engineering Management from Cornell's College of Engineering. Fury played softball and competed in pole vault on the varsity track and field team. She has also competed in National Physique Committee Figure events, and in 2007 she placed 4th at the NPC National Figure Championships in New York and 3rd at the NPC USA Figure Championships in Las Vegas. In 2010, she won the title America's Strongest Middleweight Woman.
During her time at Newport High School in Oregon, she was actually voted 'Most Likely to Be on American Gladiators'. In 2008, this fact became a reality when she joined NBC's re-launched American Gladiators. Although the audition process wasn't all plain sailing, a thief stole her Gladiator audition video tape and video camera the night before she was due to send it in to the production staff. She chased after the thief screaming and yelling until he dropped her purse, which perhaps makes the name Fury even more suitable!
Sadly, due to injury she was unable to compete in the next season and had to take to the sidelines as an alternate. One of her most memorable moments in the arena was her spectacular signature take-down move for Contenders on Hang Tough.
She is married to former Cornell Big Red hockey player Frank Kovac and has two children Blake and Bianca. She works as a Lead Consultant at Jamberry, a nail cosmetics and beauty supplier.
Your Comments: