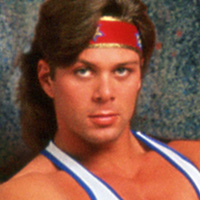 Viper
Name: Scott 'Chuck' Berlinger
Height: 6'0"
Weight: 240 lbs
Country: United States of America
Years: 1991 - 1993
Viper has been an athlete since he was six years old. He grew up in Cumberland, Rhode Island, where he was a high school All-State an All New England swimmer. He attended the University of South Carolina, graduating in 1988 with a B.S. Marketing/Finance degree. While at University he began strength conditioning and body building, going on to win the Mr. USC Bodybuilding Championship title. He was also a champion in wrestling, water polo and football intramurals.
his eventually landed him a spot on the popular TV show, American Gladiators, as Viper for two years during Season 3 and 4, as well as competing in the nation-wide live tour. The resident bad-boy of American Gladiators, Viper once tore up a spectator's sign that read "Viper Needs a Diaper!". His best events were Powerball and Hang Tough.
Viper studied Brazilian Ju-Jitsu with Master Renzo Gracie in NYC and Hosted Extreme Fighting for a season. He appeared in the 'Maine Man' and 'Skin Deep' calendars. He also starred with Glenn Close and Goldie Hawn in the motion picture 'Death Becomes Her' (1992).
His love for competition and training inspired him to start his own triathlon and cycling team called 'Full Throttle Endurance Racing' located in New York City and Connecticut. Viper is the Founder and President of the Full Throttle Team training group that has picked up four USA Triathlon Team Championships (2007 - 2010) and 7x NYC Team Triathlon Championships (2008 - 2014).
Besides being a nationally acclaimed coach, Viper also has many personal accomplishments, including USA Triathlon All American, USA Triathlon Level 2 Certified Coach, USA Cycling Coach and was named a top five trainer in America by Men's Journal magazine.
Your Comments: