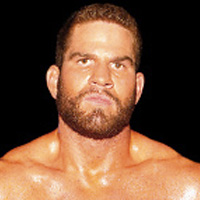 Beast
Name: Matt Morgan
Height: 7'0"
Weight: 310 lbs
Country: United States of America
Years: 2008
Half-man, half-monster and the biggest thing to hit the Gladiator Arena by far, The Beast leaves every contender who faces him a changed man forever.
Beyond big, badder than bad and absolutely immovable, The Beast competes without an ounce of mercy and obliterates everything unlucky enough to cross his path.
Making his entrance for Season 2 of NBC's American Gladiators in a cage lowered from the arena ceiling, Beast made his Gladiator debut during the first night of the semi-finals in the Joust. He defeated each of his two Contenders in less than eight seconds.
At the age of five, he was diagnosed with Attention-Deficit Hyperactivity Disorder (ADHD), which led to him getting involved with CHADD (Children and Adults with Attention Deficit Hyperactivity Disorder), a non-profit organisation.
As a college basketball player, Beast competed in the 1996 NCAA Men's Division I Basketball Tournament and is best known for his professional wrestling career in TNA Wrestling where he is a former two-time TNA World Tag Team Champion. He had previously also been part of WWE from 2002 until 2005.
In 2008, a sample of his DNA was stored in the Immortality Drive and taken to the International Space Station in a Soyuz spacecraft. Along with the likes of physicist Stephen Hawking and athlete Lance Armstrong, the intent of the Immortality Drive is to preserve human DNA in a time capsule, in case some global cataclysm should occur on Earth.
He retired from professional wrestling in June 2015. Beast is married to his college sweetheart Larissa and they have a son named Jackson.
Your Comments: