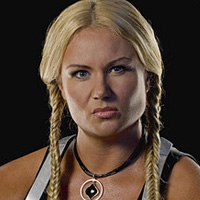 Hellga
Name: Robin Coleman
Height: 6'1"
Weight: 205 lbs
Country: United States of America
Years: 2007 - 2008
When she stomps into Gladiator Arena, most sensible opponents run for cover rather than risk a Viking funeral. She may have left her horned helmet on the boat, but she hits with the force of Thor's hammer, and quickly sends opponents straight to Valhalla.
Texas born Hellga is a figure competitor, professional strongwoman and former female bodybuilder. In 1997, after one and a half years of training, she competed in her first bodybuilding competition and gained the title of Border States Classic Novice '97. She also came 2nd in the Open Heavyweight division. In 2001, Hellga competed in the World's Strongest Woman in Zambia, Africa, where she came third. She has also trained in boxing, mixed martial arts and pro wrestling as well as being a competitive rower, with affiliations with Lions Rowing Club and California Yacht Club.
In 2001, Hellga made her television acting debut, playing roles like Polaris on 'V.I.P.' and Tanya on 'Days of Our Lives' (2008). Her film debut was in Tyler Perry's 'Madea Goes to Jail' (2009) in the role of Big Sal. Her first love is comedy and she is a trained comedic actress, she studied method acting at the Baron Brown Institute and Improv comedy at the Groundlings School.
Hellga rocketed to popularity, quickly becoming an easily recognised fan favourite with her uber Nordic Knockout persona. In the words of Hellga: "It ain't easy fighting crime in a skirt, but someone has to do it".
Your Comments: