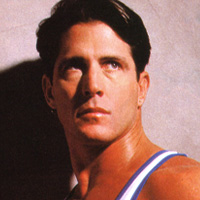 Turbo
Name: Galen Tomlinson
Height: 6'1"
Weight: 235 lbs
Country: United States of America
Years: 1990 - 1996, 1996 - 1998
Originally from Fallbrook, California, Turbo was always on a quest for speed and power. A stand-out athlete in high school, Turbo turned down no less than 12 major scholarship offers for football and wrestling. He was discovered by a talent scout at a bodybuilding competition in Los Angeles during 1989 who was looking for new, engaging, well built athletes to try out for American Gladiators.
Although he had never seen the show, he dominated his Gladiator tryout and soon became Turbo immediately quitting his job running a concrete company. As the name implies, this Gladiator lends power, speed and agility to the squad. Competitive by nature, Turbo excelled in most events. Often referred to as the "best athlete on the team", he was definitely a formidable opponent in all Gladiator events. Turbo's strongest events were the mid-air events: Skytrack, The Wall, Hang Tough and Swingshot. However, Turbo's ground attack was just as ferocious and had very strong winning records in all events, including a near perfect Whiplash record.
Turbo's Gladiator career was almost cut short in Season Three during a preliminary Powerball game against Tommy Knox and Ted Pappenhagen. As Turbo was going in for a tackle on Knox he hyperextended his knee, resulting in a terrible knee injury. Turbo missed the rest of season, only to return stronger than ever in Season 4. Turbo's temper was another weakness. Although infrequent, Turbo did have several angry outbursts during the course of American Gladiators. Two of his most famous were against Remy Smith and Kyler Storm.
Turbo appeared with his daughter Kourtney in a special episode of Gladiators 2000 (the children's version of American Gladiators). They competed against fellow Gladiator Sky and her daughter, Ashley. After the television series he later went on to appear in American Gladiators Orlando Live in Florida.
He has appeared in the TV sitcoms 'Amen', 'Family Matters' and 'Who's The Boss' and even written several screenplays, including a treatment for an American Gladiators movie.
Currently living in Southern California, Turbo is the Head Coach and Director of Coast North County Volleyball Club, located in North San Diego County. He has been working in the field of volleyball for over 15 years, previously coaching at Fallbrook High School. During his club years Turbo has coached many athletes who have had success at the collegiate level; including his daughter, Kourtney, who went on to be a freshman coach, and his niece, Carli Lloyd. Turbo helped to raise Carli after her father died when she was just 4 years old, she has gone on to become a member of the USA National Team and plays professionally in Italy.
Your Comments: