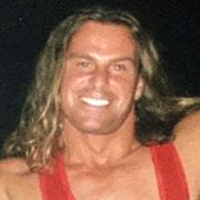 Viper
Name: Roger Stewart
Height: 5'7"
Weight: 176 lbs
Country: United States of America
Years: 1996 - 1998
Viper was a part of the team for American Gladiators Orlando Live. He was living in San Diego, California, weight training with Siren (Shelley Beattie) at the time when he was asked to tryout for the show by her husband John Romano, who was the host of the live show in Florida.
Viper left the show due to sustaining a broken hand and to pursue other endeavours and return to the competitive bodybuilding stage. Flash (Steven Caropelo) who was the referee at the time, was the only person available immediately who could fit into Viper's costume.
Viper wasn't always muscular. In school he joined the wrestling team and weighed all of 98 lbs. He joined the football team but he was too small to play and had to settle for a 2nd string quarterback position. Fed up being thin and lacking strength he took up bodybuilding at 16 years old, living in Akron, Ohio, at the local YMCA gym under the tutelage of Bob Blount.
The third of four children (two older sisters and one younger brother) Viper incorporated a strong work ethic into his training, and this paid off in solid muscularity. Seven months after his first workout, he entered the Upper Ohio Valley physique competition and took 3rd place. Next, he entered and won the 16-to-17 year old division of the Teen USA. After this, he competed in 94 contests, winning such titles as Mr. Kentucky, Mr. Midwest and The Southern States Championships.
Hailed as part of the 'new breed' of bodybuilders in the early 90s, Viper learned building and construction at Ivy Tech in Indiana, but moved to San Diego to resume training at Gold's Gym and Club La Jolla. He also began studying commercial acting and modelled to further his career, appearing on the cover of many fitness magazines, including Muscle & Fitness, Musclemag and Muscular Development. In competition he achieved the following titles 1982 Natural America 3rd, 1991 NPC USA Championships 5th, 1992 NPC USA Championships 9th, 1993 NPC USA Championships 4th, 1994 NPC USA Championships 4th, 1998 NPC Nationals 7th and 1999 NPC USA Championships 12th.
Viper is the inventor of the 'Extreme Calf Machine' which helps build bigger and stronger calves, he was known within the bodybuilding community for his legs and very well developed calves.
Your Comments: