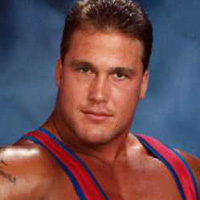 Tank
Name: Reggie Biegler
Height: 6'2"
Weight: 245 lbs
Country: United States of America
Years: 1996 - 1998
Tank was an extreme Gladiator, he strives on adrenaline! He loves anything that includes fear and skill - including jumping out of planes, riding bulls and even wrestling alligators.
Part of the U.S. Army for 3 years (1988 - 1991) as a Blackhawk crew chief, his favourite event in Gladiators was Whiplash. He would dislodge the dog-bone from the Contenders grasp by performing a sudden flip move called the 'Tank Roll'. He actually competed with a broken finger.
Since Gladiators, Tank is a strength and conditioning specialist, nutritionist, food consultant and s special needs and disabilities certified life coach.
Your Comments: