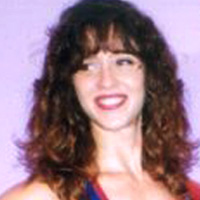 Electra
Name: Suzanne Power
Height: 5'5"
Weight: 135 lbs
Country: United States of America
Years: 1997 - 1998
Electra was born and raised in Miami, where she started bodybuilding. She won the title of 1992 Ms. Miami, sanctioned by the NPC - National Physique Committee.
Due to her stature, she was known as one of our smaller Gladiators, which made her swift and 'electric' in the arena. American Gladiators Orlando Live MC Steve Caropelo (who also starred as American Gladiator Flash) dubbed her Electra the Electric in his arena introductions.
Electra excelled in Breakthrough & Conquer and on The Wall, where she was known for her over 7' leap which gave her advantage against Contenders.
Electra also had a career as a Firefighter/EMT with Palm Beach Fire Rescue. After each of her 24-hour Fire Rescue rotations, she travelled back to Orlando to perform and where she lived part-time during her time on the show.
Soon after the closing of the Orlando Live arena in 1998, she married and had a son, Max, with John Romano, who was one of the MC's at the Gladiator arena. She later shifted her career into the construction and property management industry and now manages her own contractor's business in West Palm Beach.
Your Comments: