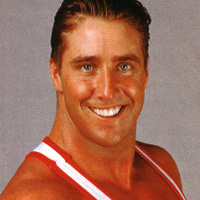 Tower
Name: Steve Henneberry
Height: 6'4"
Weight: 278 lbs
Country: United States of America
Years: 1991 - 1994, 1996 - 1998
This former Mr. America 1989-90 likes to be called the 'Tower of Power'. A Milwaukee, Wisconsin native, he played several high school sports including football, baseball and wrestling at Union High School in Waterford, Winsconsin. He became involved with bodybuilding in high school and became inspired by his first muscle fitness magazine in 1979. He set himself an ambitious goal of 10 years to achieve the Mr. America title, dedicating his life to bodybuilding. In 1989, in Worcester, Massachusetts, he won the Mr. America competition. After achieving his goal, he hasn't competed in bodybuilding since.
His next goal was to be a movie actor. He moved to California in 1986 and invested in and ran Gold's Gym for several years before getting a job as Conan at Universal Studios, which is what got him into acting. He immediately established himself a successful modelling career, landing on the covers of such magazines as Muscle & Fitness and Muscular Development. He was soon starring in popular television shows, including 'Married with Children', 'Knots Landing', 'The Bold and the Beautiful' and the WB's 1995 sitcom 'Muscle'. He has also worked as a celebrity trainer with a clientele list that included Bruce Davison, Cybill Shepherd and Eva Gabor. During his reign as Mr. America, this Gladiator travelled to 38 cities to lecture students on nutrition, setting goals in life and saying no to drugs.
Tower originally joined the American Gladiators as an alternate for the 1991 season. His first main outing was to temporarily replace Turbo after he had hyperextended his knee. After impressing the crowd and production team, he stayed on the show alongside Turbo. The former Mr. America title holder was one of the tallest male Gladiators and stayed with the show until the penultimate season before going on to compete in American Gladiators Orlando Live. His favourite events were Joust and Powerball.
During Season 4, he collided with Sabre during a game of Powerball and needed 44 stitches to close a severe gash in his head. Incredibly, Tower came back to the show just three hours later.
In 2000, Tower made a complete career change into residential and commercial Real Estate title insurance. He is currently working as the VP/ County Manager for Title365 in California. Never one to rest on his laurels, he has also turned a hobby of graphic design into his own design and print company, 'Huckleberry Designs'.
Your Comments: