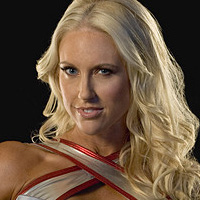 Venom
Name: Beth Horn
Height: 5'8"
Weight: 142 lbs
Country: United States of America
Years: 2008
She has shed her skin to become one of the most feared warriors in Gladiator Arena. She stalks her prey with caution and strikes when it is least expected. Any opponent that faces her had better come prepared because there is no known antidote for Venom, who is lethal in any dose.
Competing in two seasons of NBC's American Gladiators, Venom was a specialist at The Wall and Hang Tough, striking fear into many a Contender.
Chicago born Venom, has been a competitive gymnast since the age of seven. She graduated from Ball State University with a Bachelor of Science in Exercise Physiology. After blowing out her left knee in high school, then her right knee in college, she turned to fitness training and bodybuilding with the help of coach Bob Dixon. Affectionately known as the 'Bionic Woman' due to her knee reconstructions, in 2000, she won the National Fitness Championships in New York and became an IFBB Pro. She is also a successful personal trainer, model, actor and author of the nutrition and fitness book 'The Natural Way'.
Outside of Gladiators, she has appeared on screen numerous times, including Quantum Leap: A Leap to Di For (2009) and played the part of 'Animal Babe' in comedy film Fancypants (2011), alongside fellow Gladiator Wolf (Don 'Hollywood' Yates).
Since 2005, she has been married to Bruce Butler, who was known as 'Mr. Venom' during the recordings of American Gladiators. She now currently runs and presents product reviews for HotReviews4U.com.
Your Comments: