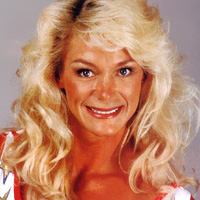 Zap
Name: Raye Hollitt
Height: 5'7"
Weight: 135 lbs
Country: United States of America
Years: 1989 - 1990, 1991 - 1995, 1996 (as a Contender)
Born in Wilkes Barre, Pennsylvania, Zap, has the distinction of being the only original Gladiator who never auditioned for her role on the show. She was fast, smart, and devastating to contenders; the ultimate Gladiator.
Growing up, Zap was the epitome of athletic beauty. Not only was she a state champion javelin thrower and volleyball player, she was also the prom queen at her high school. In 1983, a former boyfriend turned her on to bodybuilding. Three months later she finished third in her first competition, Miss Pennsylvania. Zap moved to the Mecca of bodybuilding, Venice, California, and her career was about to skyrocket. Her first major win was in the 1988 NPC Miss Los Angeles competition as the Overall Champion. From there, she started doing print, bathing suit and fitness modelling. Her body has graced the covers of numerous fitness magazines, including Women's Physique World, Muscular Development and Musclemag International. She retired from professional bodybuilding in 1992.
Prior to joining the American Gladiators cast, Zap worked as a para-legal. She then caught the acting bug and went on to star as the big, blonde, seductress in Blake Edwards' film 'Skin Deep' (1989), starring alongside John Ritter. It was there she was noticed by the producers of American Gladiators and, well... the rest is history.
Zap was a formidable opponent in Season One, even after suffering an injury in the second half. Zap missed Season Two of the show in order to have her daughter, Teddi Rae, but later returned for Season Three looking better than ever! She remained a Gladiator until the end of Season Six, deciding to pose for Playboy. She later returned for the alumni show in the final season, and competed as a Contender against fellow Gladiator Dallas (Shannon Hall). Her favourite event was Hang Tough.
Additionally, Zap once owned two gyms in Pennsylvania: The Gym by Raye Hollitt and Powerhouse. Fellow American Gladiator Siren (Shelley Beattie) used to be her training partner.
Her success as Zap also led to guest roles on numerous TV shows, such as 'JAG' (1995), 'Baywatch' (1992) and 'Manhunt' (2001). She also featured in a handful of films including 'Hot Shots! Part Deux' (1993), 'Day of the Warrior' (1996) and most recently 'The Ode' (2008). She continues to travel and spends a lot of time with her daughter.
For more information on Zap (Raye Hollitt) please visit her official website.
Your Comments: