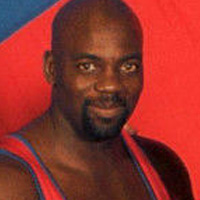 Titan
Name: Tim Washington
Height: 6'3"
Weight: 265 lbs
Country: United States of America
Years: 1996 - 1998
Titan was recovering from a hit-and-run accident, when he applied to be an American Gladiator. Two days after being released from hospital he tried out and joined the team for the American Gladiators Orlando Live shows.
He has played football, basketball and ran track in high school and holds a state record in the 400 meters. Titan won the Ucon Jack arm-wrestling contest which was broadcast on ESPN and was also a boxer for a time. He is a cousin of American former professional boxer Marvin Hagler (Undisputed World Middleweight Champion from 1980 to 1987).
Affectionately known as 'The Big Big Man', Titan entered the Gladiator arena in Orlando performing a rap routine along with dancing cheerleaders. His record in Joust was almost flawless (he even broke 4 pugil sticks in battle and reportedly broke both of Contender Brian Gamble's hands!). Titan also excelled at Powerball where his speed and strength could really shine.
After Gladiators, Titan went on to appear in the RollerJam TV series as a blocker for 'The Enforcers' and was known as 'Big Nasty'. Since that show ended he has been wrestling, doing stunt work and spending time with his two daughters and one son.
Your Comments: