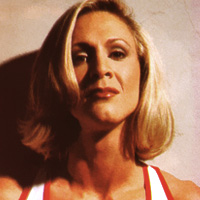 Sky
Name: Shirley Eson Korito
Height: 6'3"
Weight: 175 lbs
Country: United States of America
Years: 1992 - 1996, 1996 - 1998
Sky began her Gladiators career during the American Gladiators Live Tour where she was briefly known as Athena. She proved to be a hit especially in events such as Powerball, Joust and The Wall. Sky is the tallest female Gladiator in the world and has represented America in two International Gladiators series in Birmingham, England. She stayed with the show until the very end, competing in American Gladiators Orlando Live in Florida.
A proud mother, Sky tried out to become a Gladiator at the urging of two daughters, Ashley and Taylor. She completed a two-story rope climb at her Gladiator tryout, the first time she had ever climbed a rope, and found it was one of the easiest things she's done! Her first Gladiator appearance was in Super Powerball.
Born in San Francisco, California, this statuesque Gladiator was a model at the age of 12 and went on to do commercial modelling, but quit as she found it boring. At the age of 13, she started weight training in the hope of bulking up as she was already 6' tall and skinny. She competed in bodybuilding competitions and was crowned 1990 World Gym Classic (Overall Winner), as well as placing third in the NPC California Championships Heavy Weight (1991) and the NPC Palm Springs Classic Heavy Weight (1991).
A former centurion (long-distance) cycler, Sky is never one to back away from a challenge, and went out of her way to get involved in sports where her height is a disadvantage. In bodybuilding, for instance, she is one of the tallest and heaviest women on record to compete in the sport. In 1995, Sky and her daughter Ashley competed against fellow American Gladiator Turbo (Galen Tomlinson) and his daughter Kourtney on Gladiators 2000, the children's version of American Gladiators hosted by Ryan Seacrest.
She was known as the 'Mother Hen' of the Gladiators team, even most of the Contenders referred to her as 'Mom'. "I'm the nurturing one on the show. Sometimes I give them strategies to win against me. It make it more amusing to me", admits Sky.
Since 2006, Sky and her husband Darren are the proud co-owners of Fur and Feathers Pet Resort, an award-winning pet care facility in Florida. Most recently Sky ventured back into competitive bodybuilding, taking part in the 2016 IFBB Orlando Pro & NPC Southern USA.
Your Comments: