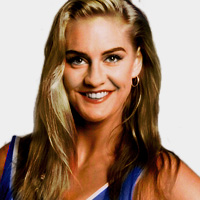 Elektra
Name: Salina Bartunek-Andrews
Height: 5'10"
Weight: 145 lbs
Country: United States of America
Years: 1992 - 1993
Elektra joined the Gladiator ranks for the American Gladiators Live Tour where she was briefly known as Shadow. She proved to be an asset to the team and was then invited to continue her Gladiator career on the television series. During the Season Four grand final, the nationally-ranked gymnast competed in Hang Tough and pulled Contender Betsy Erickson down landing awkwardly, breaking Elektra's nose.
Elektra would often help fellow Gladiator Siren, who was hearing impaired, to know when to start and stop the events.
A professional dancer, choreographer and sports model, Elektra has worked on Broadway Shows Swing!, Nine, A Chorus Line and Nice Work If You Can Get It. She was also a fitness instructor for The Firm workout videos and USA National Speed Climbing Champion.
Elektra is now a Master Instructor for AntiGravityFitness.com and enjoys high level competitive rock climbing, track, tennis, diving and gymnastics.
Your Comments: