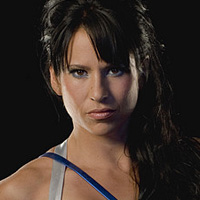 Steel
Name: Erin Toughill
Height: 5'10"
Weight: 155 lbs
Country: United States of America
Years: 2008
Forged in flame and strengthened in battle, Steel hits with the force of an army and refuses to show an ounce of mercy. Preferring to speak with her actions rather than words, this statuesque behemoth flattens everything in her path and doesn't waste time looking back at the wreckage.
Making her Gladiator debut on Earthquake during Season 2, Episode 3, of NBC's American Gladiators, this mysterious, fierce, ice-cold Gladiator was certainly a force to be reckoned with.
Steel began kickboxing at the age of 18 and soon after started training in Brazilian Jiu-Jitsu, currently she is a brown belt. She has been a professional fighter since 1999, getting into Mixed Martial Arts so that she could have a positive outlet for her aggression and to learn a bit of self defence. She soon realised that she had an ability to pick it up naturally. Her first professional MMA fight against Irma Verhoef of Holland in 1999 was at the WVC 9-World Vale Tudo Championship in Aruba, the fight went to a draw. Steel solidified her place as the number one female in mixed martial arts by her first round KO of Marlose Coenon, of Holland, in the SmackGirl 8 Woman Tournament held in 2004 in Shizuoka, Japan. She also achieved the ReMix Golden Gate Japan Champion 2001 and W-Fusion 2001 Japan Champion. Her MMA record stands as 10 wins, 3 losses (1 loss from disqualification) and 1 draw (with 4 knock outs).
In 2000, she made her professional boxing debut. She went on to fight against Laila Ali in 2005, who would later became the co-host of NBC's American Gladiators. Steel lost the fight against an undefeated Ali in the third round with a TKO. Steel held a professional boxing record of 7 wins, 3 losses, 1 draw and 1 no contest.
Retiring in 2007, Steel was the original pioneer of Women's MMA, she was the first woman to be ranked in the top 5 in both professional boxing and professional MMA simultaneously. However, she came out of MMA retirement in 2008 and fought Jan Finney at Palace Fighting Championships 11. Steel was victorious and later went on to defeat Karen Williams and Emily Thompson in subsequent events for the Prize Fighting Championship. Her last fight was in 2011.
Chicago born Steel is now a top strength and conditioning coach and trainer at American Gym in Costa Mesa, California.
Your Comments: