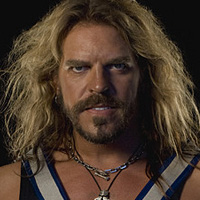 Wolf
Name: Don 'Hollywood' Yates
Height: 6'4"
Weight: 225 lbs
Country: United States of America
Years: 2008
When you enter Gladiator Arena keep an eye out for Wolf! Able to smell fear and always going for the jugular, Wolf is 230-pounds of primal fury. He will ferociously defend his turf... and thrives on the opportunity to sink his teeth into any challenge.
Wolf competed in two seasons of NBC's American Gladiators, bounding into your living room challenging the Contenders in events such as Hang Tough, Pyramid and The Wall.
Growing up, he played football, baseball, basketball and soccer. His love of the entertainment business started at the age of 7 when he would perform as an Elvis impersonator, after he was captivated at how one man could get the attention of the world. He decided he wanted to be that kind of man. His grandfather owned several night clubs during the time Wolf was growing up and he performed every chance he got, singing songs ranging from Elvis to Michael Jackson, Donny Osmond, Chuck Berry, Kenny Rodgers and Alabama.
Wolf has been a professional rodeo circuit bullfighter and rodeo clown. His achievements have made him a championship level competitor in the professional rodeo arenas for over 20 years and he has achieved titles such as 2000 National Finals Rodeo Wrangler Bullfight Barrel Man, 2x NFR Wrangler Bullfight Finalist, 2x BRO World Champion Bullfighter, 3x Salinas Rodeo Bullfight Champion, 3x Ellensburg Rodeo Bullfight Champion, 4x FT. Madison Bullfight Champion, plus over 30 other championships. Throughout rodeo and bullfighting, he has had over 130 broken bones, 3 knee surgeries, and was also gored by a bull and needed emergency surgery to save his life. It was a year to the day of being in the hospital to when he was asked to be an American Gladiator, going from his death bed to Gladiator in a year.
Upon turning 30, Wolf decided he wanted to be a professional wrestler and began doing independent shows, trained by The Navajo Warrior. About a year after training he was booked to do opening warm-up matches for the WWE, he also had a couple spots on Velocity and Raw. His experience with the WWE taught him a lot about character development.
Spotted by a casting director at the Mr. & Mrs. Olympia Bodybuilding Event in Las Vegas, he was asked if he would tryout for NBC's new series of American Gladiators. After some persuasion, as he was actually waiting on a contract with the WWE to come through, he decided to enter the Gladiators Arena as the howling Wolf!
Wolf's credits include playing 'The Darkness' in indie movie 'Fancypants' (2011), alongside fellow Gladiator Venom (Beth Horn), 'CSI: NY' (2010), 'I'm in the Band' (2010), 'Machined Reborn' (2009), 'The Unjust' (2008) and 'Vampire Slayers' (2005).
Since American Gladiators, Wolf is stepping back to his root's in the music industry with his band Hollywood Yates and the Wolf Pack, after releasing his debut country album 'Like We Used To' in 2010. He has been married to his wife Shari since 1999.
Your Comments: