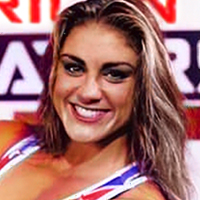 Dallas
Name: Shannon Hall-Girolamo
Height: 5'10"
Weight: 165 lbs
Country: United States of America
Years: 1994, 1995, 1996 - 1998
Dallas originally tried out to be a Contender in Houston, Texas. She impressed the producers so much during training she was asked to be a Gladiator instead. Her first year on the show saw her compete as an alternate in the Gold Medal Challenge of Champions and International Challenge of Champions in 1994.
She became known as Dallas due to the fact upon joining the team no one could remember her name. They affectionately kept calling her 'Dallas' as that was where she was from at the time, and it just stuck.
Known as the 'Texas Twister', Dallas entered the arena with a series of incredible back-flips. She excelled in the strength events such as Joust, Powerball and Conquer. In 1995 she went head-to-head against fellow Gladiator Zap as a Contender in season seven's Alumni/Tiger Twins Challenge, and won!
In 1996, whilst competing in the American Gladiators Orlando Live shows, she participated in the first Toughwoman World Championships in Detroit. She ended up winning the Toughwoman Championship and was offered a professional boxing contract becoming an IFBA Platinum Heavyweight Champion, as well as successfully defending her Toughwoman title in February 1998. Dallas went undefeated in ten fights in Toughwoman contests.
Signed by World Wrestling Entertainment in 1998, she trained alongside many other future WWE Divas, but sadly was never featured on television.
Dallas opened a gym in Florida aptly named 'Gladiator Arena' which offers kids' mixed martial arts, boxing, jiu-jitsu and regular mixed martial arts. She has two children Hunter and Mianda.
Your Comments: