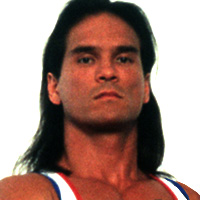 Nitro
Name: Dan Clark
Height: 6'2"
Weight: 225 lbs
Country: United States of America
Years: 1989 - 1992, 1994 - 1995, 1996 (Presenter)
The most volatile and outspoken member of the American Gladiators team, he takes losing personally. Nitro definitely had a spark when it came to igniting the Gladiator arena. He was born in Zoma, Japan and raised both in the U.S. and Vietnam. A self-proclaimed 'chubby kid', Nitro blossomed into a stand out football player in high school and later at San Jose State University. After school, Nitro spent two years playing in Italy and later with the NFL Los Angeles Rams during the strike season. This is where he met and befriended fellow Gladiator Jim 'Laser' Starr.
Nitro was promptly hired when he auditioned for the role in Gladiators, spending three solid seasons on the show and competing in both the Live Tour and in the International Gladiators competitions in Birmingham, England. Nitro initially left after a merchandising dispute but came back for Season Six of the show before hanging up his spandex forever. He took over the color commentating role for the Seventh Season, replacing Lisa Malowsky.
He dominated most of the Events especially Hang Tough where he held a near-perfect record. His favourite event was The Wall and his least was Tug-o-War, in which he herniated a disc in his back during his only attempt.
After American Gladiators, Nitro turned to acting, appearing in movies such as Death Becomes Her (1992) with Meryl Streep and Bruce Willis and Equilibrium (2002), with Christian Bale. He has also guest starred in TV series including Ellen, Walker, Texas Ranger, V.I.P., Married with Children, Who's the Boss?, Saved by the Bell: The College Years and competed on the CMT reality show Ty Murray's Celebrity Bull Riding Challenge in 2007.
Nitro returned to the American Gladiator universe on March 31 2007, when he hosted a marathon of classic American Gladiators on the U.S. version of ESPN Classic. He was also a consulting producer of NBC's relaunched American Gladiators series in 2008.
In 2009, Nitro wrote his critically acclaimed memoir Gladiator: A True Story of 'Roids, Rage, and Redemption. Fight Club author Chuck Palahniuk selected Gladiator as one of his "Best Books" of 2009. New York Times bestselling author Augusten Borroughs also had high praise for the book.
Nitro is the creator of the 'Gladiator Rock'n Run.' One of the top obstacle adventure runs in America that challenges participants to test the skills over a 5k to 10k course. It benefits Talk About Curing Autism and has raised hundreds of thousand of dollars for the cause.
After surviving a heart attack in December of 2013, Nitro received what he calls a second chance. Inspired by his near death experience, Nitro has dedicated his life to helping others find their inner Gladiator and live a healthier, happier, more fit life. He enjoys all sports, yoga, acting, writing and martial arts (he has a black belt in Tae Kwon Do) and is often performs his own stunts.
Your Comments: