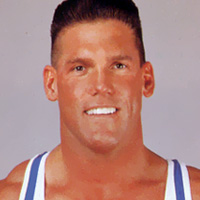 Laser
Name: Jim Starr (Kalafat)
Height: 6'1"
Weight: 225 lbs
Country: United States of America
Years: 1989 - 1996
It's hard to imagine that Laser had any idea what was in store for him while he was growing up in the mountains of Montana. Laser was an All-American line-backer at Montana State University and was drafted by the USFL in 1983. After a year in the league, he moved to the Kansas City Chiefs for a year, played with the Toronto Argonauts in the Canadian League for one season, and then played for the 1987 Los Angeles Rams, having also captured the bodybuilding title of Mr. Montana in 1986.
While on disability after badly injuring his back playing for the Rams, he signed with the Screen Actor's Guild in 1988 and met Dan 'Nitro' Clark. Upon the urging of his agent and Nitro, Laser became one of the first additions to the newly remodelled show during the second half of Season One. Initially perceived as an 'All-American Guy', Laser soon proved that he had a 'don't mess with me' attitude about competition, often getting disqualified for rough behaviour.
Although Laser holds the distinction of being the longest-serving male American Gladiator, competing in all seven seasons and the Live Tour, he is also one of the most injured. He's hurt both shoulders, broke his nose and ankle and suffered a herniated disc. "It's more dangerous than most people think. I've had more injuries as a Gladiator than I did playing football!". During the fourth season of the show, Laser was even given the title of Team Captain, an honour he was very proud of.
Even now, years after the show went off the air, Laser still makes appearances. He was spotted at several of NBC's American Gladiators events, often seen talking with Wolf, Venom and the other new Gladiators. He lives in California and is the Director of Product Development at Life Time Fitness and the owner of Sports Nutrition Consulting Group.
Your Comments: