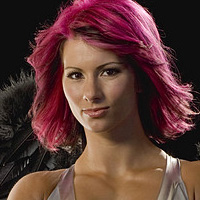 Phoenix
Name: Jennifer Widerstrom
Height: 5'6"
Weight: 155 lbs
Country: United States of America
Years: 2008
Soaring into the sky like a spirit from the flames who has been kissed by the sun, the beautiful and bewitching Phoenix is as impossible to defeat as her mythical namesake. And just when a competitor has fooled herself into believing she's got a chance, this dangerous bird of prey rises with talons fully extended to shred anyone into submission.
Phoenix, who competed in the second season of NBC's American Gladiators, found that Hang Tough and Sideswipe were her best events, with Powerball as the most challenging. After Gladiators, she went on to become a trainer on the American version of NBC's long standing hit television series 'The Biggest Loser', replacing Jillian Michaels in 2014. She is also a fitness model and personal trainer.
Growing up Phoenix began lifting weights with her dad Norm, who introduced her to bodybuilding and was a great influence on her life. This resulted in her becoming a die-hard Arnold Schwarzenegger fan! Although she has never been a bodybuilder, she entered one figure competition placing first at the Midwest Ironman Classic. She also took part in gymnastics, diving, and eventually became a Division I hammer thrower at the University of Kansas.
She has appeared on TV shows such as 'The Talk', 'Today', 'Extra', 'E!', 'ET' and 'Access Hollywood', as well as on the cover of Health magazine and Muscle & Fitness Hers and in features in Shape, to name just a few.
Phoenix is an elite personal trainer/group fitness instructor certified by the National Academy of Sports Medicine. She is also a Master Trainer for Dynamax Medicine Balls and has also achieved her Crossfit Level 1 Certificate. She does charity work with 100X Development Foundation and has volunteered at orphanages and schools in Rwanda, Kenya and Malawi, Africa, helping children to find self-confidence and self-esteem through sport and play.
Your Comments: