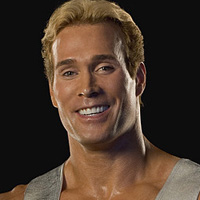 Titan
Name: Mike O'Hearn
Height: 6'3"
Weight: 251 lbs
Country: United States of America
Years: 2008
With nearly godlike strength and skill, he is the ultimate warrior. Able to physically dominate foes with his impressive physique, he is equally adept at mind games and will attempt to mentally defeat opponents before the battle even begins. Titan is a double threat who will find a way to win... one way or another.
Titan is the only Gladiator to have been part of both NBC's American Gladiators series and the original series, when he was an alternate Gladiator named Thor, although he never featured on our television screens. As Titan, he was the team captain to the new set of Gladiators and was a true all rounder, excelling in most of the events but especially Joust and Powerball.
During Episode 5 of Season 2, Titan famously became Hulkified and turned green for the Joust event. The episode was dedicated to the movie release of 'The Incredible Hulk' (2008) and featured special Hulk themed elements and a never-before-seen clip from the film. Lou Ferrigno (who played The Hulk in the popular 1970's TV show) also made a special appearance in the green-hued 'Hulked Out' Gladiator Arena.
Titan grew up on a farm in Kirkland, Washington, and is the youngest of 9 brothers and sisters. He began competing in natural bodybuilding, power lifting, and martial arts at the age of 13. By the age of 15, he won the Teenage Washington State competitions in all three sports. In college he was a 3-time All State Defensive Tackle and All American football player.
He holds 4 Mr. Universe titles and was voted one of the 12 greatest physiques of all time by the fitness industry as well as a 7x Fitness Model of The Year. His numerous other accolades include: Mr. America, Mr. International, Mr. World, Mr. California, 4x California Power Lifting Champion, 4x Best Lifter, 2x Iron Warrior: Decathlon of Strength Strongman Competition and 2x California Judo Champion. He was inducted into the Bodybuilding Hall of Fame in 2013 and the Martial Arts Hall of Fame in 2014. If all of that wasn't enough, Titan has graced over 500 fitness covers (second only to Arnold Schwarzenegger) and is also an actor and community ambassador.
A life-long proponent of the natural approach to bodybuilding, Titan authored 'Proven Techniques for Drug Free Bodybuilders' to inspire the next generation. He is the founder of Power Bodybuilding, a training program that focuses on developing both strength and hypertrophy, along with aesthetics.
Over the years he has appeared in numerous other high profile TV shows including 'Battle Dome' (1999 - 2001) as the poster boy Michael O'Dell, 'Days of Our Lives' (2005, 2008), NBC's 'Knight Rider' (2009) and starred as Clark Kent/Superman in the popular Sandy Collora fan film 'World's Finest' (2004). He's also graced the big screen in movies such as 'Death Becomes Her' (1992), Barbarian (2003) and The Keeper of Time (2004), to name just a few.
Titan is pretty much as close as you're going to get to a real-life superhero!
Your Comments: