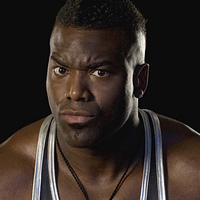 Justice
Name: Jesse Smith
Height: 6'8"
Weight: 290 lbs
Country: United States of America
Years: 2008
Tipping the scales at almost 300 pounds of power and with 20-inch guns at his disposal, Justice does indeed have a very long arm, and he'll pursue any adversary to the ends of the earth to prove it. Ask any of his opponents and they'll tell you that sometimes Justice hurts, and the scales always tip in his favour.
In professional wrestling, he was known as Justice Smith in the fourth edition of WWE Tough Enough in 2005, billed as the $1,000,000 Tough Enough. After being eliminated from the show he moved on to wrestle briefly on the independent circuit.
His TV debut was in 2000 during the second series of Battle Dome, where he was known as Snake, alongside fellow Gladiator Mike 'Titan' O'Hearn. He has appeared in numerous films and TV series including Like Mike (2002), Gilmore Girls (2004), Blood and Bone (2009), NCIS: Los Angeles (2010) and Thor (2011). Justice performed Martial Arts on Tina Turner's 50th Anniversary World Tour.
Justice was born in Detroit but moved to Germany with his father who was a Sergeant Major in the Army. He lived in Germany until 10th grade when he returned to the United States. At the age of 21, he graduated from Medical school and turned to Mixed Martial Arts shortly after, as well as becoming a 3rd Degree Black Belt in Tae Kwon Do and a Khmer Kickboxing Trainer.
Your Comments: