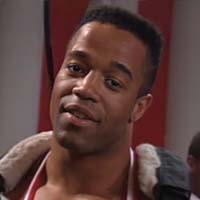 Havoc
Name: George King
Height: n/a
Weight: n/a
Country: United States of America
Years: 1992 - 1993
Havoc appeared during the second half of Season Four of American Gladiators, which included the International Challenge of Champions episode.
During his time on the show he competed in Powerball, Breakthrough & Conquer, Human Cannonball, Joust, The Wall and The Maze.
Havoc, who has a sports background in American Football, starred in the 'Nutty Professor II: The Klumps', a 2000 romantic comedy science fiction film. He played a Stripper alongside Eddie Murphy and Janet Jackson.
Your Comments: