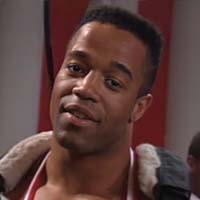 Havoc
Name: George King
Height: 6'
Weight: 205 lbs
Country: United States of America
Years: 1992 - 1993
Havoc, originally from Cleveland Heights, Ohio, appeared during the second half of Season Four of American Gladiators, which included the International Challenge of Champions episode.
During his time on the show, he competed in Powerball, Breakthrough & Conquer, Human Cannonball, Joust, The Wall, Atlaspheres and The Maze.
After American Gladiators, he competed as a Challenger in Season 1 of syndicated American television series 'Battle Dome', going on to be crowned the Battle Dome Champion! He was invited back for Season 2 as a Challenger Coordinator, which involved training the Challengers on how to be successful against the Warriors.
Havoc, who also has a sports background in American Football, went on to do stunts, acting and extra work. In 2000, he most notably starred in the 'Nutty Professor II: The Klumps', a romantic comedy science fiction film, playing a stripper alongside Eddie Murphy and Janet Jackson. He also starred as a policeman in Dr. Dre and Eminem's music video 'Forget About Dre' (2000).
Your Comments: