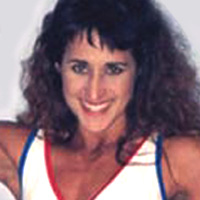 Panther
Name: Cathy Sassin
Height: n/a
Weight: n/a
Country: United States of America
Years: 1991/1992
Panther, initially known as Jet during the American Gladiators Live Tour, made her debut when fellow Gladiator Storm blew out her knee. She had impressive skills in Swingshot and was a tough match for any Contender.
She moved onto the TV series as an alternate and was renamed as the wily take-no-prisoners Panther. Sadly she didn't make it onto the show. However, she did feature as part of the female Gladiators team in a special episode of 'Family Fued' in 1994, against the male Gladiators.
Panther competed as a contestant in the rival TV show 'Knights and Warriors' in 1992, and was once married to fellow Gladiator Thunder (William Smith); they still work together at Intrafitt Enterprises. She is the author of the 'Gold's Gym Exercise Journal' and a degree in Kinesiology from UCLA.
An internationally top ranked athlete in adventure sports, Panther has enjoyed competing in extreme challenges through the sport of adventure racing. In 2000 and 2002, her prowess led her to be recognised as one of 100 top female athletes in the United States by the Women's Sports Foundation. After her adventure racing career, she began commentating for adventure sports.
Your Comments: