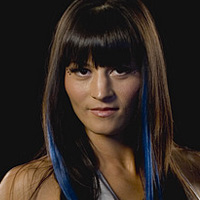 Jet
Name: Monica Carlson
Height: 5'7.5"
Weight: 148 lbs
Country: United States of America
Years: 2008 (as a Contender and Gladiator)
After her Season One triumph on NBC's American Gladiators as the champion female Contender, Jet was officially cleared for takeoff as an American Gladiator. The supersonic stunner is ready to create some major turbulence, so everyone should fasten their seatbelts, return their tray tables to the upright and locked position, and prepare for a crash landing.
Jet, a sports model and former dancer for the Portland Trail Blazers, has featured in advertisements for Under Armour, Nike, Adidas and Athleta. One of 11 children, she successfully defeated life wellness coach, Shanay Norvell, with a narrow three second head start in the Eliminator to claim the American Gladiators title in 2008. After finishing first in the Eliminator to win the competition, Monica (Jet) said, "Oh my gosh, I feel amazing. I'm so tired." Jet's husband and two twin daughters, Emma and Ellie, joined her on stage to help her celebrate her victory. Growing up, American Gladiators was her favourite TV show.
She is a fitness advisor, model and personal trainer in Oregon.
Your Comments: