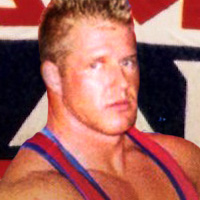 Thor
Name: Paul Rogers
Height: 5'10"
Weight: 240 lbs
Country: United States of America
Years: 1996 - 1998
The mighty Thor was part of the American Gladiators Orlando Live Shows. His skill and strength shone through in Joust and Whiplash.
Born in Wolverhampton, England, the athlete and former English bodybuilding champion moved to the America in 1994. His ambition was to be part of the American Gladiators team rather than the UK version as he wanted to go where the Gladiators concept had originated from.
Thor, who played the lead role of the Terminator in the T2-3D ride at Universal Studios in Florida, is also a personal trainer and nutrition counsellor.
In May 2000, he found God and was called to ministry in 2001. He was ordained as a pastor and minister of evangelism in 2006 before setting up his Millennial Church in Orlando, Florida with his wife Jeerika.
He has been on several trips around the world and also preaches to prisons and to troops in war-torn countries. Through his New Image Ministry he tackles issues such as anti-drug and drink, abstinence, self-belief and academic excellence.
Your Comments: