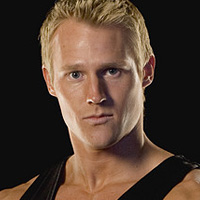 Rocket
Name: Evan Dollard
Height: 5'10"
Weight: 160 lbs
Country: United States of America
Years: 2008 (as a Contender and Gladiator)
The only male contender to take on the Gladiators during Season One and live to tell the tale, Rocket explodes with blazing speed every time he's launched into the Gladiator Arena. This is one ruthless competitor who will charm you with a blinding smile right until the moment he roars up beside you like lightning, to toss you to your doom.
As a Contender Rocket, the youth athletic instructor, competed against high school teacher and wrestling coach Alex Rai in the final of Season One of NBC's American Gladiators. Both Contenders were known for their quickness in previous rounds, but the lightning-quick Rocket managed to pull ahead early in the competition and took the Eliminator by storm, beating his own record-setting time of 1 minute 19 seconds. He dedicated his winning performance to his mother who he had lost to brain cancer a few years previously. Rocket then hit the gym with fellow Gladiator Wolf, before making his debut as a Gladiator in Season Two.
Born in Chicago, Illinois, he is also a four-time competitor on NBC's American Ninja Warrior and was the Southwest Regional Champion 2012. He competed in Esquire Network's 'Team Ninja Warrior' in 2015 as part of Team Alpha, alongside Brent Steffensen and Kacy Catanzaro.
Rocket has hosted several television, web, and commercial projects that include ESPN's BattleFrog College Championship, Esquire Network's Well Trained Warrior series, The Craze, and GetInsured.com. He also has his own YouTube channel for his competitive mini-series known as 'Ninja Quickie'.
Most recently, he has been announced as the course host of NBC's new series 'Spartan: Ultimate Team Challenge' (2016).
Your Comments: