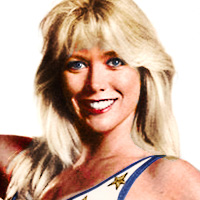 Lace
Name: Natalie Lennox Merritt
Height: 5'7"
Weight: 135 lbs
Country: United States of America
Years: 1992
Lace is no stranger to the limelight, appearing in TV classics such as 'Star Search' and a guest appearance on the science fiction sitcom 'They Came from Outer Space'. She was also crowned Penthouse magazine's 'Pet of the Month' in January 1993.
She began her Gladiator career by applying to be a Contender for the 1992 season but producers asked her to take over the role of Lace from her predecessor Marisa Pare. Often referred to her as 'Lace #2', her Gladiator career was short lived and she was replaced by Siren.
Nowadays, Lace owns a horse farm in Florida and won her first bodybuilding figure competition, the 2014 NPC Orlando Europa Show of Champions, at the age of 48.
Your Comments: