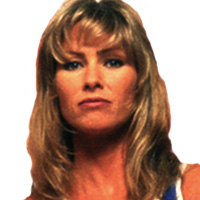 Ice
Name: Lori Fetrick
Height: 5'7"
Weight: 155 lbs
Country: United States of America
Years: 1990 - 1992, 1993 - 1996, 1996 - 1998
Ice joined the American Gladiators for Season Two in 1990. Her favourite event was Powerball because she enjoyed tackling and body-slamming! As well as competing in five seasons of American Gladiators, the 114 city arena Live Tour, and Orlando Live, 'Ice, Ice, Baby' also represented her country in two series of International Gladiators, filmed in Birmingham, England.
A standout athlete all her life, California-born Ice played volleyball, softball and basketball in San Bernardino High. She captured all-league honours in all four years of high school in all three sports. She became interested in bodybuilding and modelling after high school, lifting weights when she was 22 years old. She became a NPC National Level Bodybuilder, winning the California State title and placing 3rd in the Nationals.
She has made numerous television and film appearances, playing a starring role in the movie 'CIA II: Target Alexa' (1993) and as Vixen in 'Lois & Clark: The New Adventures of Superman' (1997). As well as being the co-author of the book 'Pure Fitness: Body Meets Mind', she produced a fitness video 'Lori Fetrick's Power Workout'. Among her hobbies she lists horseback riding, martial arts, jet skiing and golf. She briefly had a fashion line of t-shirt designs called 'IceTeez'.
Ice worked as a personal trainer in Los Angeles before opening her own gym in Orlando, Florida, which she owned and operated for 3 years. She now works as Financial Professional at Transamerica.
Your Comments: