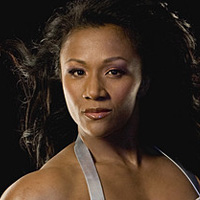 Stealth
Name: Tanji Johnson
Height: 5'3"
Weight: 123 lbs
Country: United States of America
Years: 2008
She flies under the radar for a swift and unexpected attack, and any adversary caught unaware will get a swift lesson in shock and awe. Immensely strong and cool under pressure, she executes her favourite move - a quick counter-attack that you never see coming.
The shortest Gladiator in the arena, Stealth admits that she probably wouldn't have been cast in the original series due to her height. However, in 2008 Stealth competed in the first season of NBC's American Gladiators, excelling in the likes of Powerball and Gauntlet. When the crowd calls for her, she throws her hands up in a triangle - indicative of the Stealth Bomber she represents. Sadly, due to a knee injury she sustained in Season One, she was sidelined for Season Two.
Stealth was born in Bamberg, Germany and grew up as an Army brat living her childhood in Germany and Korea. She attended Irmo High School after her father retired and ran track & field. She was also the founder and Captain of a hip hop dance team called Irmo Divas.
She attended the U.S. Air Force Academy, where she was a varsity cheerleader and a member of the cadet Honor Guard and went through several intense military programs like survival training and marine corps officer training. She earned a Bachelor of Science Degree in Humanities and commission as an Air Force officer when she graduated in 1997. Upon leaving the Air Force, she began competing in fitness in 1998 but took a year off when she was deployed during Operation Allied Force. Since then, she has competed in the Fitness America Pageant, Women's Tri-Fitness, NPC, and the IFBB, at which she won the IFBB Fitness International title at the Arnold Sports Festival in 2013. Stealth has won numerous more titles including taking first at the Arnold Europe Classic (2011), New York Pro Fitness (2010), All Star Pro Fitness (2007), Europa Pro Fitness (2006), All Star Pro Fitness (2006), Emerald Cup (2005) and her first professional win Toronto Fitness Classic (2002).
Highly respected in the fitness industry for her Christian values and integrity, Stealth continues to work as a personal trainer, a coach for physique competitors to her Save Fitness Team that she founded in 2008, as well as co-promoting the Vancouver Natural Bodybuilding and Tanji Johnson Fitness/Figure Classic competitions, covering Pacific Northwest. She marketed the first ever Figure Posing DVD called the 'Art of Posing' and is a contributing writer for Max Muscle, Natural Muscle, Faith & Fitness, NPC News, Bodybuilding.com as well as gracing the covers of H2O and Natural Muscle magazine.
Your Comments: