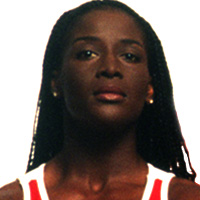 Jazz
Name: Victoria Gay
Height: 5'10"
Weight: 175 lbs
Country: United States of America
Years: 1993 - 1996, 1996 - 1998
Jazz joined the American Gladiators in Season Five and instantly made her mark in Gauntlet, Pyramid and Snapback. One of the most fierce and determined Gladiators in the history of the show, Jazz featured in three seasons as well as participating in two series of International Gladiators filmed in Birmingham, England. She then went on to appear in American Gladiators Orlando Live.
Born in Lexington, Kentucky, Jazz became a Gladiator by attending try-outs for Contenders in Houston, Texas. After her try-out she received a call from the production team asking her if she would consider becoming a Gladiator instead. Her favourite event is the Joust.
Growing up a loner, she always felt different as a child and had the nickname 'Grand Canyon' because of how big her legs and calves were. She graduated from high school and attended college at Western Kentucky and Texas Southern University. She started her own computer software and hardware design company but continued to work as a chemical lab technician at an oil and gas company in Houston, Texas, after earning a Bachelors Degree in petroleum technology.
This highly competitive Gladiator was first bitten by the athletics bug while still in high school where she was a highly honoured high school athlete and discus thrower, later progressing to national level and trying out for the 1984 Olympic team. In 1986, Jazz started bodybuilding and has won the Sun Belt, Houston Cup and Texas Cup competitions.
She now works in the Retail Estate industry in Humble, Texas. Her son is Southwestern Louisiana basketball player, Barry Bowman.
Your Comments: