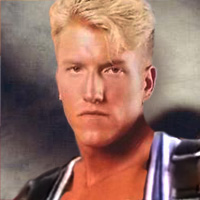 Atlas
Name: Phillip Poteat
Height: 6'4"
Weight: 245 lbs
Country: United States of America
Years: 1992
Atlas joined the Gladiators team as part of Season Four and competed in the International Challenge of Champions '92. Although his Gladiator career was short lived his best events were The Maze and Human Cannonball.
An accomplished actor, Atlas has appeared on TV in 'Silk Stalkings', 'The Ben Stiller Show' and the movie 'The Naked Truth' (1992).
His twin brother, bodybuilder John Poteat, was married to fellow American Gladiator Gold (Tonya Knight); they are now divorced.
He was one of the few Gladiators to come up with his own Gladiator name, with help from Zap. They felt the name Atlas suited him because of his large shoulders; they referenced Atlas the God holding the world on his shoulders. The producers liked it and Atlas was born. His favourite event on the show was Powerball.
On 30th August 2017, Atlas sadly passed away. More details to follow...
Your Comments: