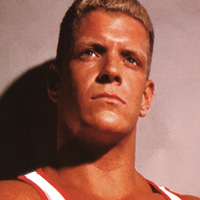 Hawk
Name: Lee Reherman
Height: 6'4"
Weight: 250 lbs
Country: United States of America
Years: 1993 - 1996, 1996 - 1998
Hawk already had a successful sporting career before becoming an American Gladiator for Season 5 (1993). A former pro football player and standout lineman at Cornell University, earning prestigious honors of Team Captain, he then tried out for NFL's Miami Dolphins after graduating in 1988. Hawk proved that brains and brawn can mix, he was studying for his master's degree in business administration at UCLA's Anderson Graduate School of Management when a talent agent approached him about trying out for Gladiators. He then worked as a project manager for a sports marketing company which published magazines throughout the United States and worked towards a PhD in economics and business management and earned a MBA in finance from UCLA's Anderson Graduate School of Management.
Born in Louisville, Kentucky, Hawk was a true crowd favourite in Gladiator arena. His favourite events Powerball and Hang Tough. He went on to represent America in two series of International Gladiators filmed in Birmingham, England, in 1994 and 1995. His natural charisma and ability gained him a legion of fans worldwide. The 'Hawkster' stayed with the show when it transferred to Florida, for American Gladiators Orlando Live!
After American Gladiators, he went on to a successful career boasting acting, hosting, voice over and production credits in over 100 television and feature film projects. His resume includes everything from Disney's 'K.C. Undercover', 'That's So Raven' and 'Hannah Montana' to becoming the host of the Speed Network's 'Hot Rod TV', 'Forza Motorsport Showdown' in 2007 and G4TV's 'Arena'. Most recently appeared in an episode of the CW's 'Jane the Virgin', as well as Fox's 'Cooper Barret's Guide to Life'. His other TV credits include small roles in 'The X-Files', 'NCIS', 'Gilmore Girls' and 'The Shield'. As a producer, Hawk oversaw the 'American Veteran Awards' for the History Channel.
He starred alongside Arnold Schwarzenegger in the movie Last Action Hero (1993) and Star Trek Into Darkness (2013).
On the March 1st 2016, Hawk sadly passed away, aged 49. He was found dead by his girlfriend, Natalina Maggio, in his house in Manhattan Beach, California. No current cause is known, although the former athlete hadn't been feeling well in recent days after undergoing hip replacement surgery. At the time of his death, he was working on 'The League', a documentary about football in the Ivy League.
Rest in peace, Hawkster.
Your Comments: