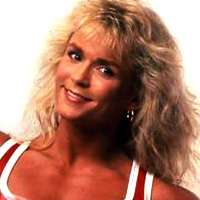 Gold
Name: Tonya Knight
Height: 5'8"
Weight: 160 lbs
Country: United States of America
Years: 1989 - 1992
Gold was one of the top female professional bodybuilders in the world. She won the prestigious Arnold Schwarzenegger IFBB Ms. International 1991, IFBB Grand Prix Italy 1991 and finished fourth in the 1998 Ms. Olympic contest. This Gladiator began bodybuilding while in high school and won the Missouri crown. Gold was constantly featured on covers and in layouts of muscle magazines and worked on an acting career.
Gold entered the Gladiator competition as the replacement for Sunny and quickly made her presence known. She was formidable in Powerball and in Breakthrough and Conquer, taking down one of the largest female contenders ever in Breakthrough, Wendy Brown. The blonde bombshell departed the Gladiators team after Season 3 due to injuring her knee. Gold was replaced by Storm in the line-up.
She retired from professional bodybuilding in 1993 and was inducted into the IFBB Hall of Fame in 2011.
Gold was once married to fellow Gladiator Atlas' twin brother, a bodybuilder named John Poteat, they are now divorced.
Sadly Gold passed away on February 7 2023, aged 56, after battling cancer. She is survived by her son named, Malachi.
Your Comments: