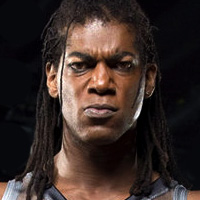 Mayhem
Name: William Romeo
Height: 6'6"
Weight: 230 lbs
Country: United States of America
Years: 2008
A storm of smouldering intensity and lightning-quick reflexes, Mayhem unleashes waves of devastation through the ranks of even the most battle-hardened opponents.
He was an alternate for Season 2 of NBC's American Gladiators.
Mayhem grew up in Houston, Texas where he flourished in the arts including dance, theatre and martial arts. He trained to become a 2nd degree Black Belt and won various accolades in kickboxing. Mayhem split his time between Las Vegas and Australia, where he spent a few years as a lead dancer, singer and professional model; appearing on various billboards and TV shows.
In 1989, Mayhem was chosen to be an alternate Contender in Houston, Texas on the original American Gladiators series. Although he didn't get the chance to compete, his Uncle Phillip continued to give him unwavering love and support. That same year, Mayhem's Uncle Phillip passed away from heart failure. 19 years later, the opportunity presented itself again and he had the opportunity to audition for the new series of NBC's American Gladiators; this time as a Gladiator. The day he received his final callback fell on his beloved Uncle Phillip's birthday.
He has co-starred in numerous television series including CBS's 'Without a Trace' (2007), 'Shark' (2006) and 'How I Met Your Mother' (2005). He is also a recurring character in Nickelodeon's hit series 'Henry Danger' as Bork.
Mayhem continues to pursue his dream of becoming a leading Hollywood actor as well as being a funk aerobics fitness dance coach at FUNK-NFITNESS. He can be found enjoying the beach or a good movie with his two boys, Josh and Josiah.
Your Comments: