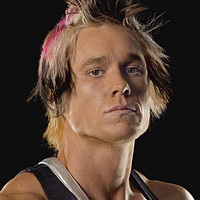 Hurricane
Name: Breaux Greer
Height: 6'2"
Weight: 230 lbs
Country: United States of America
Years: 2008
Run for cover as fast as you can whenever Hurricane blows into Gladiator Arena. Appearing without warning and striking with enough energy to blow down a mountain, those contenders unlucky enough to cross his path will experience a truly perfect storm of sheer athletic prowess and destructive Gladiator instinct.
Hurricane is an eight time American Champion and American record holder for the javelin with a throw of 91.29 meters (299.5 ft), achieved on June 21st, 2007 during the USA Outdoor Track and Field Championships in Indianapolis. His throw of 91.29 meters ranks him as the #10 javelin thrower of all time (re-designed model).
Born in Houston, Texas, he is a three time Olympian, representing the United States in the javelin at the Olympic Games in Sydney, Australia (2000), Athens, Greece (2004) and Beijing, China (2008). He achieved first place at the 2004 IAAF World Athletics Final for Men's Javelin.
He tore into the arena in Season Two of NBC's American Gladiators, competing in his debut event Tilt, in which he toyed with the Contenders, defeating his first in just 4 seconds! He also excelled at Powerball. When this Hurricane gets fired up, he'll blow you away!
Your Comments: