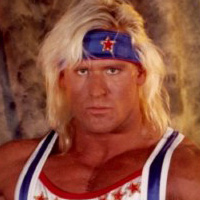 Thunder
Name: William 'Billy' Smith
Height: 6'2"
Weight: 280 lbs
Country: United States of America
Years: 1990 - 1992
A natural athlete, Thunder started playing football in high school and also excelled at lacrosse, soccer, baseball and swimming. But in weightlifting, which he started at age 16, he found his niche. At 17 years old, Thunder entered and won his first local bodybuilding competition and went on to win another 24 worldwide championships over his sixteen year competitive tenure. Some of his titles include the 1984 Gold's Classic, sixth in the 1984 Nationals Heavyweight Class and was third at the Nationals. He studied martial arts for four years as well.
Thunder had aspirations of pursuing sports nutrition and conditioning as a young man, and decided to follow self-education of study in the health sciences after graduating from Eastern Vocational Technical Institute in Essex, Maryland, where he studied the design and fabrication of race car chassis.
While working as a nutritional consultant for pro-athletes at Gold's Gym Enterprises, he found out about the Gladiator tryouts at Universal Studios. He was initially hired as an alternate, then another Gladiator's injury catapulted him into a full-time gig as Thunder, whose persona is described as the big giant of the Gladiators, crazy and fearless. The blond behemoth was one of the new Gladiators for the second season and became an instant hit, especially when he prevented points being scored in Atlaspheres. He was known to enter the arena riding a Harley-Davidson motorcycle.
At the age of 30, after nearly a decade away from the bodybuilding stage, he returned at the 1995 USA, landing fifth among the heavies. It was his final contest. With his interest in bodybuilding competitions beginning to wane, his interest in the scientific discipline of diet and exercise intensified. This was initially due to the result of his younger brother's diagnosis and long-time struggle with Type 1 Diabetes. Thunder was determined to research and develop a diet and exercise related plan that would improve his brother's ability to play sports and live a normal life. This would eventually become known today as Intrafitt, the individualised nutrition and exercise program, which he established in California in 1992. He went on to design and develop diet supplement programs for many of the top professional bodybuilders nationally and internationally, including that of fellow American Gladiator Siren (Shelley Beattie).
Thunder was once married to fellow Gladiator Panther (Cathy Sassin); although he has since re-married.
Thunder was the president, CEO and founder of Intrafitt Enterprises, residing in Charlotte, North Carolina. Thunder also owned and operated a health care teaching facility known as the Intrafitt Total Health & Fitness Center.
Sadly in 2021, Thunder passed away at the age of 56, just before his 57th birthday.
Your Comments: