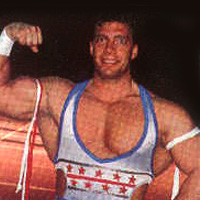 Titan
Name: Bob Cicherillo
Height: 6'0"
Weight: 270 lbs
Country: United States of America
Years: 1991/1992
Titan was a Gladiator for the American Gladiators Live Tour in 1991/1992. He didn't feature in the TV series.
His bodybuilding past allowed him to excel in Powerball and Breakthrough & Conquer.
Titan's first bodybuilding competition was the 1981 Natural America, where he placed 4th in the teen tall class. His first NPC (National Physique Committee) event was the 1987 NPC Junior Nationals, where he won in the heavyweight class division. He earned his pro card at the 2000 NPC USA Championships, Super-Heavyweight division, after 13 hard years of competing in amateur contests. He then went on to win the IFBB Masters Pro World, 2006. Qualifying for the 2006 Olympia by winning the 2006 Masters in New York, he elected not to compete instead serving as host of the various Olympia contests.
Titan has been featured in many fitness and magazine articles, as well as being featured on the cover of Flex magazine. He once appeared in the television sitcom 'Malcolm in the Middle' and is a regular contributor to the fitness website Bodybuilding.com. In addition, he has appeared in an ESPN SportsCenter commercial with Stewart Scott, a music video for the band 'Smash Mouth' and in the movie 'Dodgeball: A True Underdog Story', playing 'Rory', a bodybuilder at Ben Stiller's gym. He is also a member of the Screen Actors Guild and is the co-host of the Pro Bodybuilding Weekly radio show and podcast with Dan Solomon.
Your Comments: