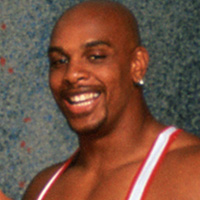 Sabre
Name: Lynn 'Red' Williams
Height: 6'2"
Weight: 230 lbs
Country: United States of America
Years: 1992 - 1996, 1996 - 1998
Sabre entered the arena during the American Gladiators Live Tour, where he was briefly known as Panther. After a few shows his name was changed to Sabre. He then joined the television series in Season 4, before going on to compete in two seasons of International Gladiators in Birmingham, England. A strong Gladiator with equally strong characteristics, Sabre could bench press 550lbs and holds a black belt in karate, he even wrote his own Gladiator rap song.
This mighty competitors favourite events were Powerball, Breakthrough & Conquer and Whiplash, where he 'owned the bone'. When the television show ended, he went on to compete in American Gladiators Orlando Live in Florida.
Before Gladiators, life took a terrible turn for Sabre. In 1988, he broke a bone in his back when he was blind-sided by a team-mate during a scrimmage with the San Diego Chargers of the National Football League. His career as a pro football player was over. Tragedy struck again in 1991, when his nephew, Darryl, was shot 28 times in the back by a SWAT team in South Central Los Angeles. However, these two unconnected events, changed his life. In January 1992, he was working at his job as a marketing representative for a health maintenance firm in Los Angeles when his wife told him about tryouts for American Gladiators. He went on to beat 600 prospective Gladiators for one position.
Sabre was a member of the notorious Bloods gang during high school in Los Angeles, and he feels that his status as a Gladiator has made him a very positive role model for kids in his community. A talented high school running back, he attended Kansas University, where he was selected All Big-Eight. Upon graduation, he was the fifth draft pick by the Los Angeles Rams. He spent a year with the Rams, followed by a year with the Los Angeles Raiders and San Diego Chargers. Born in Nebraska, he is married to Rhonda and has three children: Lynn Eric II, Lavell Duane and Lauren Nicole.
He has made several TV appearances including 'Family Matters', 'Renegade' and 'Babylon 5', as well as starring as Jax in the video game movie sequel 'Mortal Kombat: Annihilation' (1997), alongside fellow Gladiator Malibu (Deron McBee). He reprised the role of Jax in a scarcely-publicised video called Mortal Kombat: Federation of Martial Arts (2000). As a member of the Constitutional Rights Foundation and the Cancer II Foundation, he speaks at local schools in his free time.
Hang Tough, Hang Tough on Sky Track,
'Cause I'm the real Eliminator about to highjack...
You, to a brand new Atlasphere.
Tug-o-war or my dog bone, no fear here.
'Cause I'm a Breakthough and Conquer with a Swingshot,
In Gladiator Arena, I got more power than a King got.
Joustin' down people 'cause I don't care.
That's enough of this talkin, get up out your chair, and get some!
Your Comments: