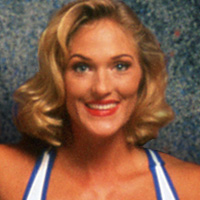 Diamond
Name: Erika Andersch
Height: 5'8"
Weight: 140 lbs
Country: United States of America
Years: 1990 - 1992
Bodybuilding was this Gladiators favourite sport. In high school, she was a competitive player in such sports as softball, volley-ball, soccer and basketball.
In 1988, she won the New England Bodybuilding Championship. She then moved to California several years later to further her weight-training career, whilst enjoying skiing, cycling, canoeing and rowing.
In the Gladiator Arena she was a great athlete who excelled at many of the events she competed in, whether it was in Hang Tough or in Breakthough, her best event.
German born Diamond has appeared in many commercials and TV shows, even posing for Playboy. In 1992 she starred in the movie 'Batman Returns' as The Knifethrower Dame, alongside Danny DeVito.
Your Comments: