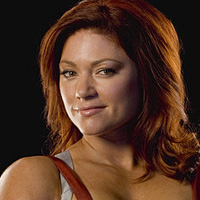 Siren
Name: Valerie Waugaman
Height: 5'9"
Weight: 145 lbs
Country: United States of America
Years: 2008
Consider yourself warned when she is heard in Gladiator Arena. Siren is a force to be reckoned with who will go off at the slightest provocation! Pay close attention to her every move, or Siren will wail... on you!
Born and raised in Cleveland, Ohio, Siren has always excelled in sports. At Brecksville High School she held six track school records and qualified for the Division I State Meet in three events: hurdles, long jump and high jump, winning the Division I State High Jump Championship. A top player in basketball and volleyball, she was named a Regional All-Star and Conference MVP. She then attended Ohio University on a volleyball scholarship and graduated with a BFA degree in Graphic Design and Photography, before becoming the Director of Marketing at Octane Café, a fitness-oriented restaurant.
She became an IFBB Pro Figure competitor in 2005 to stay in shape after being inspired by the beautifully fit pro figure women, winning the National Physique Committee NPC Junior Nationals (2005). She earned three International Pro Figure titles: IFBB Shawn Ray Colorado Pro (2006), IFBB Houston Pro Figure Contest (2007) and IFBB Colorado Pro/Am Classic Bodybuilding And Figure Contest (2007). Siren has been a cover model for magazines such as Flex and Oxygen but retired from competition in 2008 after joining the American Gladiators.
The alluring Siren competed in two series of NBC's American Gladiators after the production team had spotted her in Flex magazine. She found the most intimidating part of the audition process was having 90 seconds to make an impression on the NBC executives. She had just read an inspiring book called 'Rhinoceros Success' so, dressed in a sports bra and bike shorts, she walked into the room of 'suits'. "I went in there doing a rhino charge, and shouted, "Here I am, I'm ready," she said. The idea behind the book is that successful people charge like rhinos, while unsuccessful people, like cows, just stand in a field. The NBC execs went for it, although opted for 'Siren' as her persona rather than 'Rhino'. In the arena, she was the master of Hang Tough.
Nowadays, she is a high performance life coach and motivational speaker at 'FitMission', with the goal of educating people about fitness and to inspire them to improve their quality of life. She also had her own video series on Bodybuilding.com entitled 'Fit Mission Revolution!' and created a superhero character called the 'Green Goddess' which she uses in motivational talks to get kids to eat healthier. Living in Ohio, she is married to David Gal, and has a daughter called Trinity.
Your Comments: